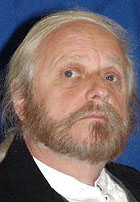 John "Jack" Koblas, 70
John J. "Jack" Koblas, age 70, of Minneapolis, died March 8, 2013. Jack suffered for some years from Parkinson's disease and his death followed a recent stroke and heart attack.
He was a native of Minnesota and spent most of his life in that state. He is survived by children, Stacy, Stephanie, John and Sarah; six grandchildren; one great-grandchild; and close friend, Janet Goodman.
Jack was one of the most dynamic and prolific writers of our time. He was a noted authority on the James-Younger Gang and the Northfield, Minnesota Bank Robbery and he wrote eight books on those subjects. Jack was very well versed in Minnesota, Civil War and Indian War history. He wrote six books on the lives of F. Scott Fitzgerald and Sinclair Lewis. His credits for Civil War and Indian War history include, J. J. Dickison: Swamp Fox of the Confederacy and a trilogy about the Sioux Uprising during the Civil War, Let Them Eat Grass. Titles of those volumes are "Smoke, Fire, and Ashes."
Jack was the author of 70 books, several screen plays and more than 500 short stories, articles and a vast amount of poetry. He was well known for his tireless research, and often said history is full of myths and only by doing in-depth research can you get to the heart of the matter. His philosophy about research on historical topics was to throw out everything you have been taught and look for yourself.
In addition to his writing skills, Jack was also an accomplished musician and lecturer. He trained for years as a concert pianist before converting to rock and roll. He played in a band in high school and later preformed with a professional band, "The Magpies." This band was inducted into the Minnesota Music Hall of Fame in 2007.
Jack was a highly-respected and well-liked author and historian. His contributions will be appreciated by the historical and literary community for many years to come.
A memorial service will be held at 3 p.m. Saturday, March 16, 2013, in the Washburn-McReavy Hillside Chapel in Minneapolis.